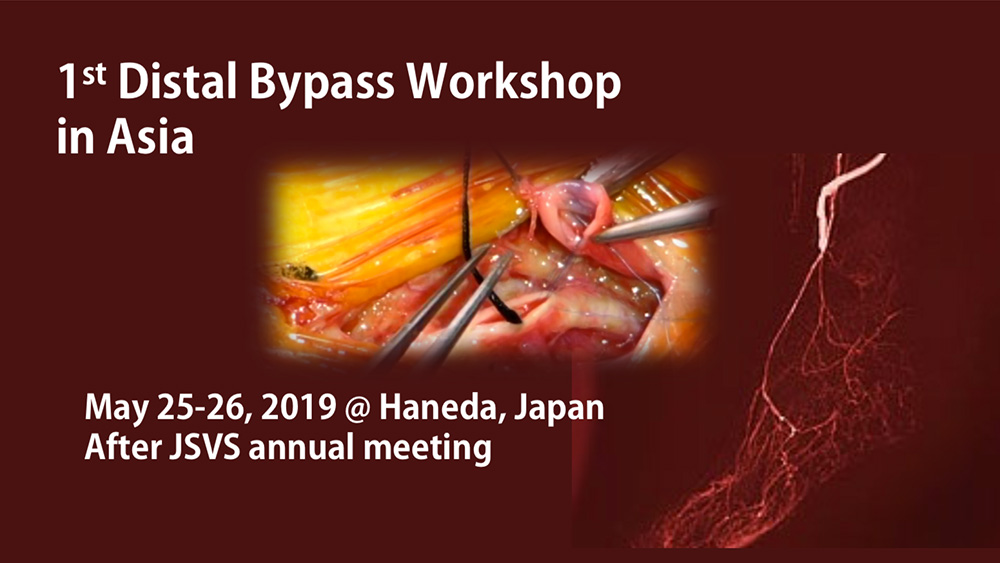 Announcement of Distal Bypass Workshop in Asia (DBWA) !
Dear Colleagues and Vascular Surgeons in Asia,
Japanese Society of Vascular Surgeons (JSVS) would like to announce you the first Distal Bypass Workshop in Asia (DBWA). 
JSVS has decided to take place the first DBWA just after the 47th annual meeting of JSVS. Detailed information with preliminary program is described below.
The latest guidelines strongly recommend distal bypass for Infrapopliteal arteriallesions, whereas vascular surgeons can perform or educate distal bypass is now decreasing in Asia. In Japan, JSVS is organizing DBW every year and more than 170 young cardiovascular surgeons have been trained through DBW so far. JSVS would like to utilize these experiences and knowhow to contribute to Asian vascular surgeons
JSVS is pleased to invite some of vascular surgeons, who are very much interested in distal bypass surgery, from each Asian country. JSVS council members will greatly appreciate if the Society of your country recommend and send 2 or 3 vascular surgeons to DBWA 2019. 
JSVS members would like to welcome many Asian vascular surgeons to attend this DBWA, and hopefully the success of the first DBWA will motivate us to continue this DBWA as annual events, which may provide opportunities to know each other and exchange ideas among Asian vascular surgeons. 
Nobuyoshi Azuma, MD, PhD.
Director of JSVS
Project leader of DBWA
Kimihiro Komori, MD, PhD.
Chief Director of JSVS
President of 47th Annual Meeting of JSVS
Information of The First Asian Distal Bypass Workshop
Date
May 25 to 26 / 2019
Place
Johnson & Johnson Tokyo Science Center
3-25-19 Tonomachi, Kawasaki City, Kanagawa, Japan 210-0821
Attendee
20 to 24 person from Asia
Requirements for attendee
Vascular surgeon completing surgical residency and having experiences of vascular procedures using surgical loupes
Tuition fee
30,000 Yen (not including accommodation fee)
Benefits of Attendee
1) Waving JSVS annual meeting fee
2) Breakfast, lunch, and dinner during workshop will be provided.
3) If attendee wants to visit a vascular institution in Japan, JSVS will manage your visit (transportation fee and other expense regarding visiting an institution should be paid by participant)
Important date
March 18, 2019 : an application deadline
*1: The 49th Annual Meeting of JSVS will be held in Nagoya from May 22-24.
https://www.congre.co.jp/jsvs47/
*******************************************
If you have any question about 1st DBWA, please do not hesitate to mail to us (jsvs@jhf.or.jp).
Provisional Program of DBW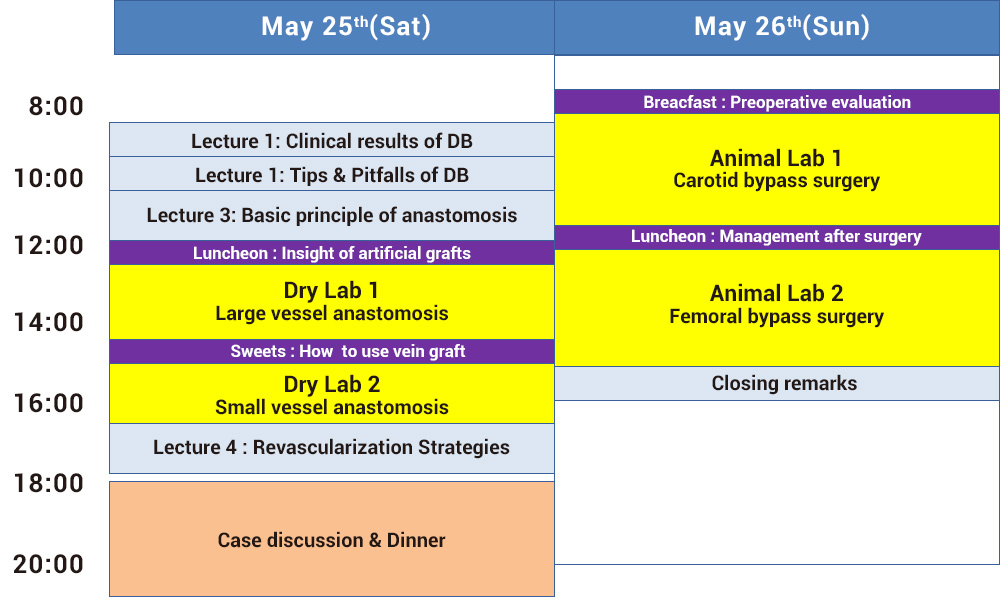 State of the day